Featured Vehicle
1972 Pontiac 1972 Pontiac Le Mans
George Burbage

The sale of a cherished 1972 Pontiac Le Mans led to a quest culminating with a near duplicate
Golden Memories
10/13/2022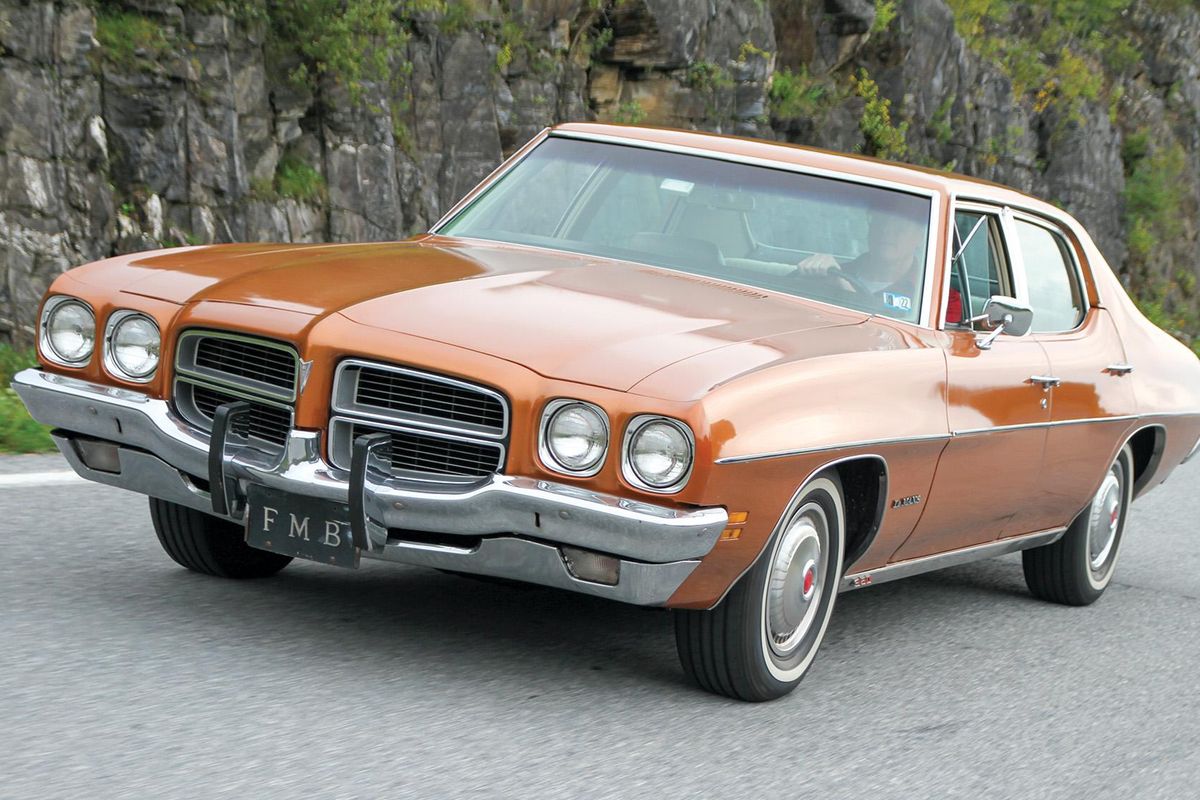 Photo by Matthew Litwin
In This Article
Category: Guides
Make: Pontiac
Model: Lemans
It's doubtful John Q. Public ever stopped to count just how many body styles have graced domestic automobile chassis since the first engine was secured to a high-wheeled carriage. In fact, some of the more classic body types actually began as carriages before their transition into motor vehicles. As the auto industry has evolved, we've seen touring, club coupe, phaeton, business coupe, roadster, hardtop, station wagon, and so many more.
Yet there has always been one consistent seller for generations: four-door sedans. They were favored by numerous consumer groups, from budding families, to business types who preferred modest comfort while chauffeuring clients, and fleet managers looking for an economically minded utilitarian passenger cars for workaday service as police cars, taxis, and the like. And, of course, all those folks who just needed a decent car that could readily accommodate more than one guest rider.
Four-door sedans were built in numbers so great that they became ubiquitous on our nation's highways and byways for almost as long as they've been in production. Unfortunately, that popularity made the four-door sedan commonplace, and, as such, their ranking—and value, perceived or otherwise—was low on the automotive totem pole, particularly among collectors during the Eighties, Nineties, and into the first decade of the new millennium. Vintage two-door hardtops and convertibles were, and largely still are, the focus of most enthusiasts, particularly when it comes to performance models.
---
---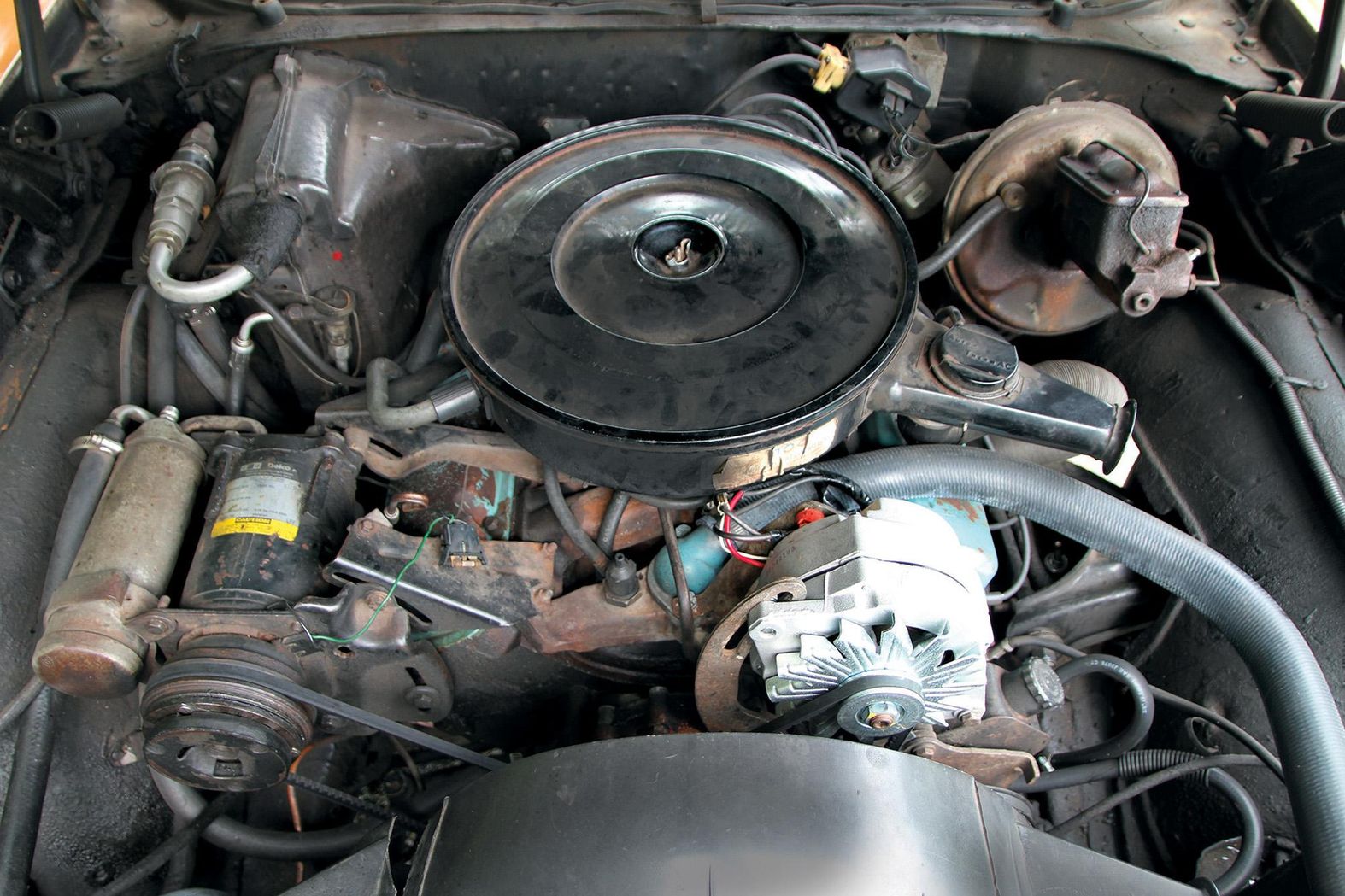 Pontiac's two-barrel equipped 350-cu.in. engine was the Le Mans base V-8, now rated for 175 hp in 1972. Emission mandate tweaks and the change to a net power rating was the culprit for the lower number.
Photo by Matthew Litwin
"They were the back burner of American family transportation; there was nothing sexy about four-door sedans then," Langhorne, Pennsylvania's George Burbage says. He has long bucked the notion that such cars would never garner the same attention as their two-door brethren.
"I became enamored with four-door cars in my youth when my aunt and uncle owned a 1966 Pontiac [Star Chief] Executive painted Marina Turquoise. I guess you could say that's when I fell in love with Pontiacs, too. They'd open the windows in that thing and the space was so big you could fall out of it. They also had a two-door '67 Le Mans with a 326 under the hood, but I really liked that Executive. I've been looking for one since," George reports.
If one four-door was enough to lure in an impressionable lad, then a second surely cemented the desire to own one down the road. That happened when his parents went to the local Pontiac dealership in late 1971 to order a second car.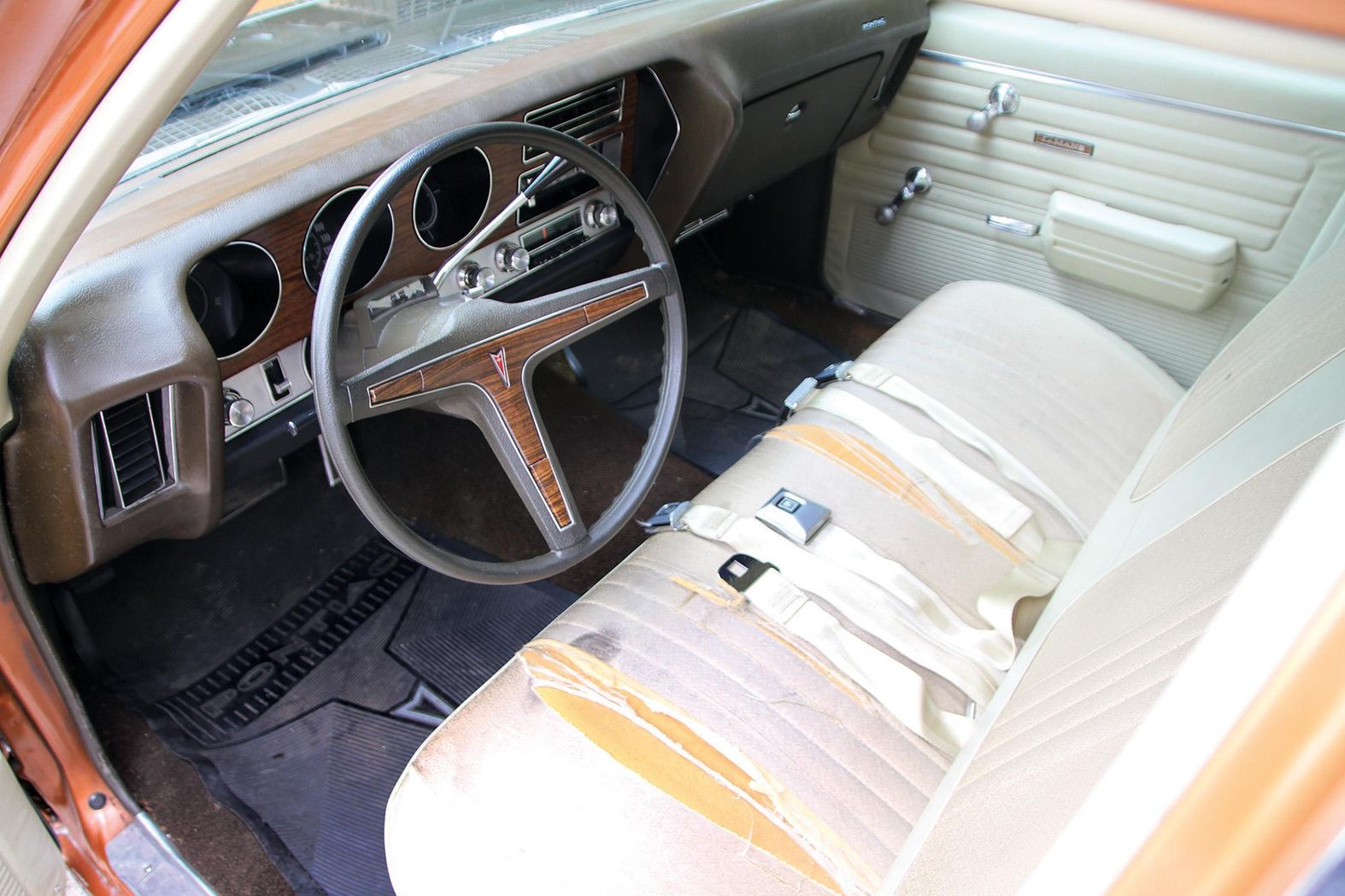 Photo by Matthew Litwin
One of the outstanding qualities of Pontiac's interior was its durability, as demonstrated by the all-original cabin within this four-door sedan. Air conditioning was optional equipment.
"We had a 1967 Chevy Corvair painted in the one-year-only color of Plum; that's what dad drove to work every day. The Pontiac was going to be my mom's car—she kept calling it 'my car' while going through the ordering process. It had to be a four-door sedan, and she opted to go with a Le Mans, but it had to have a slightly more powerful, yet economical, two-barrel 350-cu.in. V-8 with a Turbo Hydra-Matic 350 automatic. They also ordered front disc brakes and air conditioning; they selected Brazilian Gold paint with a black vinyl top and black interior. After ordering the car, my dad went into the parts department and ordered a vanity plate with the initials 'FMB'—Francis Margaret Burbage— which they had put on the front of the car when we came to take delivery in November. It was her car. Oh, how I loved that car," George says.
Instead of adhering to the semi-disposable, purchase-up intentions General Motors brass hoped would occur, the Burbage family kept their 1972 Le Mans in top-running condition and eventually passed it to George, further cementing his affection for the body style while using it as a first car. That is, until one fateful day when a rash decision set the course for his future.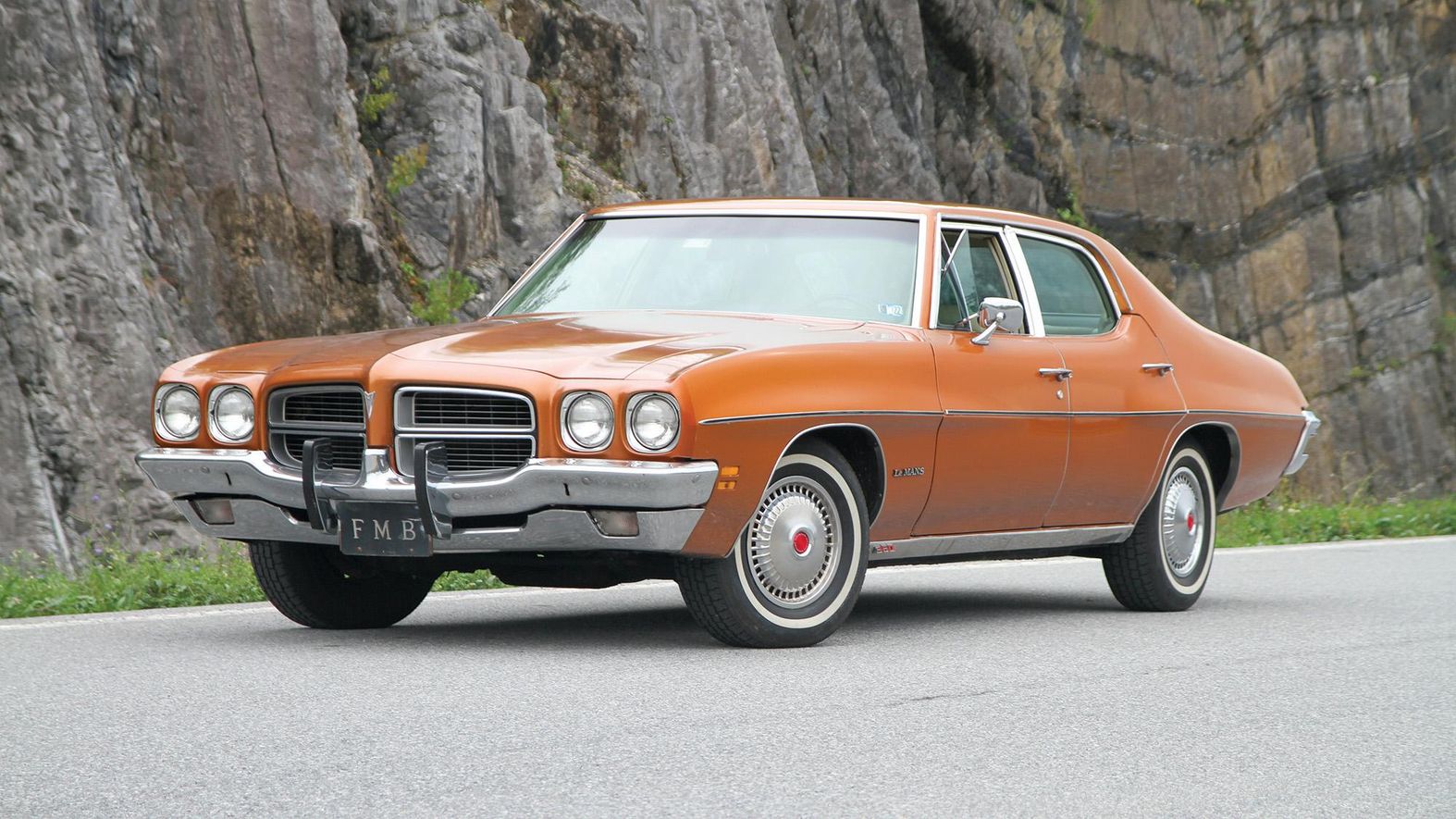 Photo by Matthew Litwin
"You're going to make me relive this horror. It was in the fall of 1986; I just started a job, had a few nickels to rub together, and felt like I wanted a newer car. I traded it in on a used, four-door 1983 Dodge 600. I wish I could say I was drunk, but I wasn't. To this day I don't know what possessed me to do that. Funny, as much as I berate that Dodge, and second guess myself, that thing was probably one of the most comfortable cars I ever owned. It had a 2.6 Mitsubishi Hemi, so it scooted, but it wasn't the Le Mans."
Though he enjoyed the "new" Dodge, it didn't take long for George to sense that he had made a mistake. "I started regretting getting rid of that Pontiac about a week after. It was one of those classic 'Why the hell did I do that?' type of things. I was sad. So, that's when I started looking for another one and reality hit, and hard. Who wants a four-door frumpy car? Dude, they've all been crushed. They're gone. If any were around, people would strip the parts that interchanged with a coupe," George says.
Despite the seemingly bleak prospect of finding another one right away, George kept his eyes open, constantly window She's just been a super car to own and drive. shopping through print and, later, digital resources. Surely an A-body four-door sedan like the Le Mans couldn't have passed into extinction, existing only in the pages of history like the dodo bird. Despite hanging on for another year of production virtually unchanged, due to the delayed release of what was to be the 1973 models, the Pontiac division built 19,462 examples of the four-door Le Mans; hardly a record, but that didn't qualify as "rare," even then.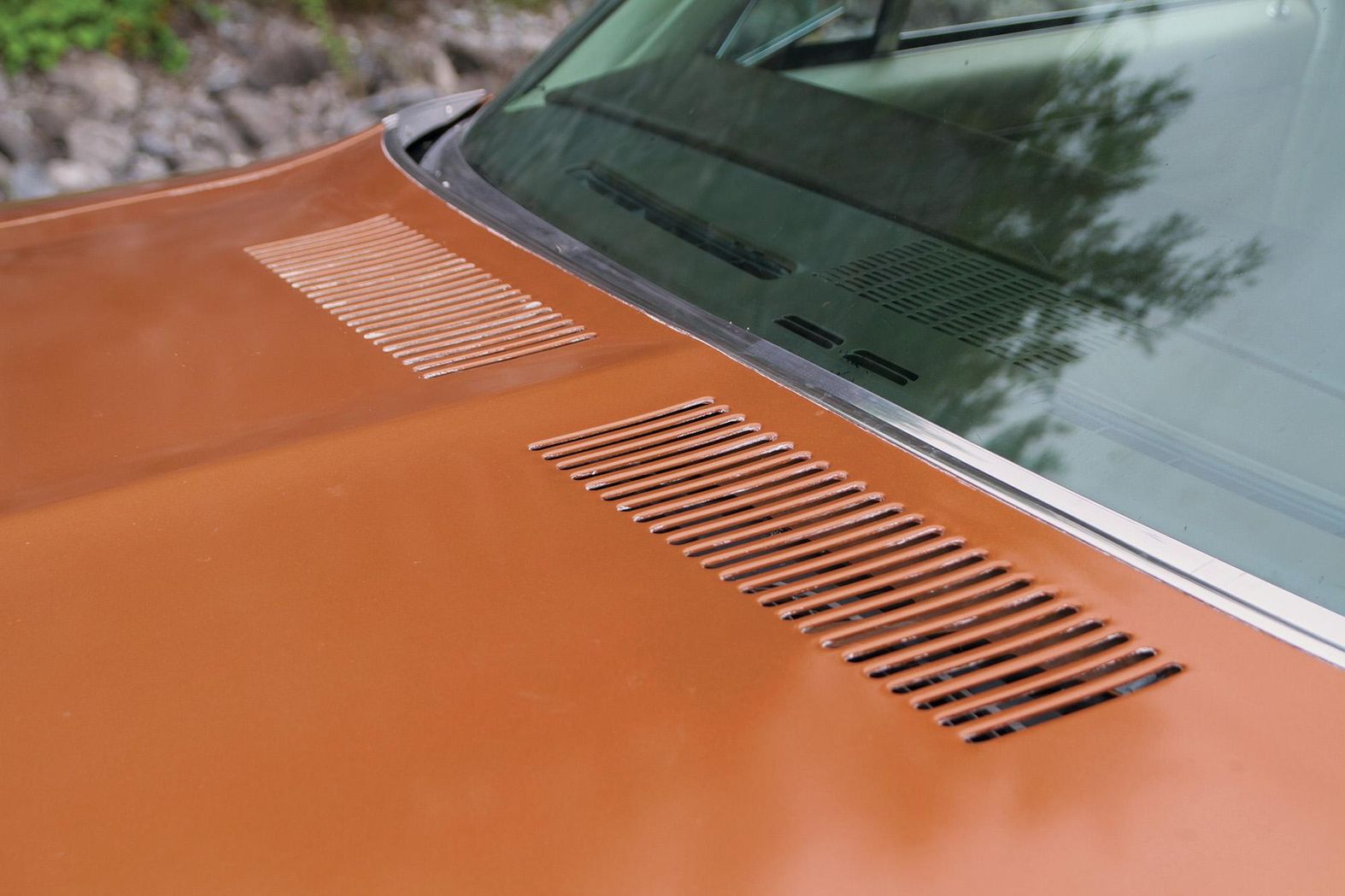 Photo by Matthew Litwin
"In October 2007 I went online one night continuing my quest, fully expecting to find nothing. Lo and behold, in minutes I found this 1972 Pontiac Le Mans four-door sedan painted Anaconda Gold, with a two-barrel 350 and a Turbo Hydra-Matic 350. If that wasn't enough, it had front disc brakes, air conditioning and all the other bits my mom's car had. It was an exact match except for the exterior color, the beige interior, and electric rear defogger. That's it. I saw it and kept saying, 'No, no.' My wife, Amy, came in and asked what was wrong. When I showed her the listing and, without hesitating, she said 'Get it!' She knew how important my mom's Le Mans had been to me."
Having finally found a near-perfect match to the car he grew up with, George's next obstacle was finances. Luck continued to be on his side.
"We had just taken out a home equity loan for some household improvements, and with Amy's immediate support, we decided to divert some of the home improvement money. Strike while the iron is hot," George, recalls. But he wasn't yet home free.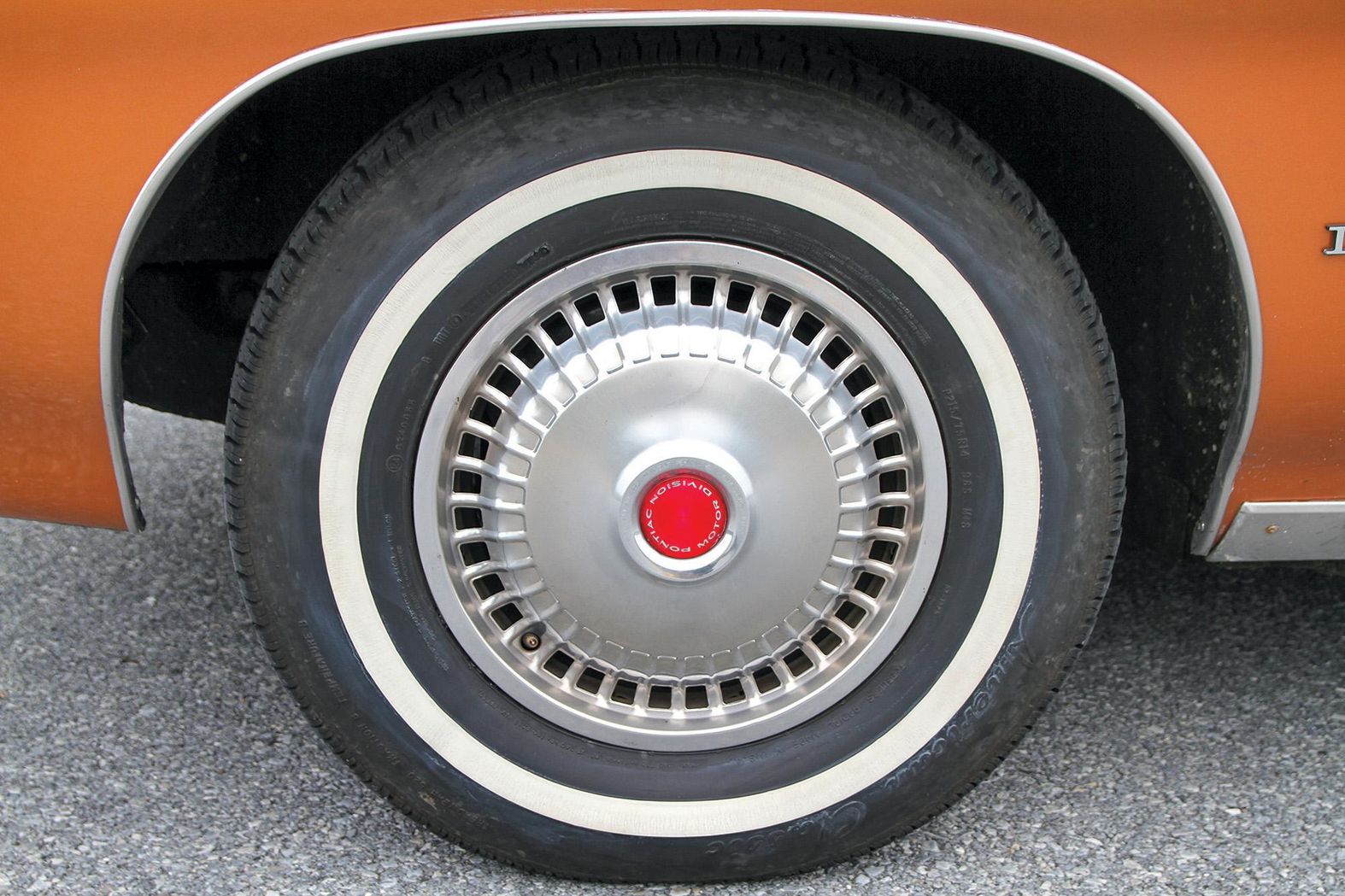 Photo by Matthew Litwin
"The guy who was selling the car was doing so on behalf of his aunt; apparently, it was his uncle's car, and he had died. It was weird, an estate sale but not in the traditional sense. They wanted his junk cleaned out but were still taking bids. My $4,200 offer was outbid, and two days later as I sat dejected, I got a call asking if I was still willing to buy the car for the $4,200 I had offered. It was a deal. I arranged to have the car shipped, and after looking it over, I would send the money. Then, upon receipt, he'd mail the title."
After taking delivery, George quickly went through his new vintage Le Mans, determining its running condition and what would need to be done to make it road-worthy. Fortunately, the list was fairly short.
According to George, "It was turnkey ready, but it was misfiring. While it was running under idle in the driveway it would sputter here and there. I've been around these long enough to know when it's misfiring and, sure enough, one of the spark plug wires was misrouted. Other than that, it was fine. I had to put new tires on it because it still wore bias plies. I put a set of radials on because I knew I was going to drive it a lot. The bias-ply spare is still in the trunk; I haven't replaced that yet, so if I get a flat tire I'm screwed. If I put any weight on the spare, it's just going to blow into powder! The other thing I did right away was put my mom's original vanity plate on the car. We had taken the plate off when we traded in the Brazilian Gold car, and I kept it in the garage all those years. When we got this one, I put it on. I had to. It's the original plate and it has road rash to prove it."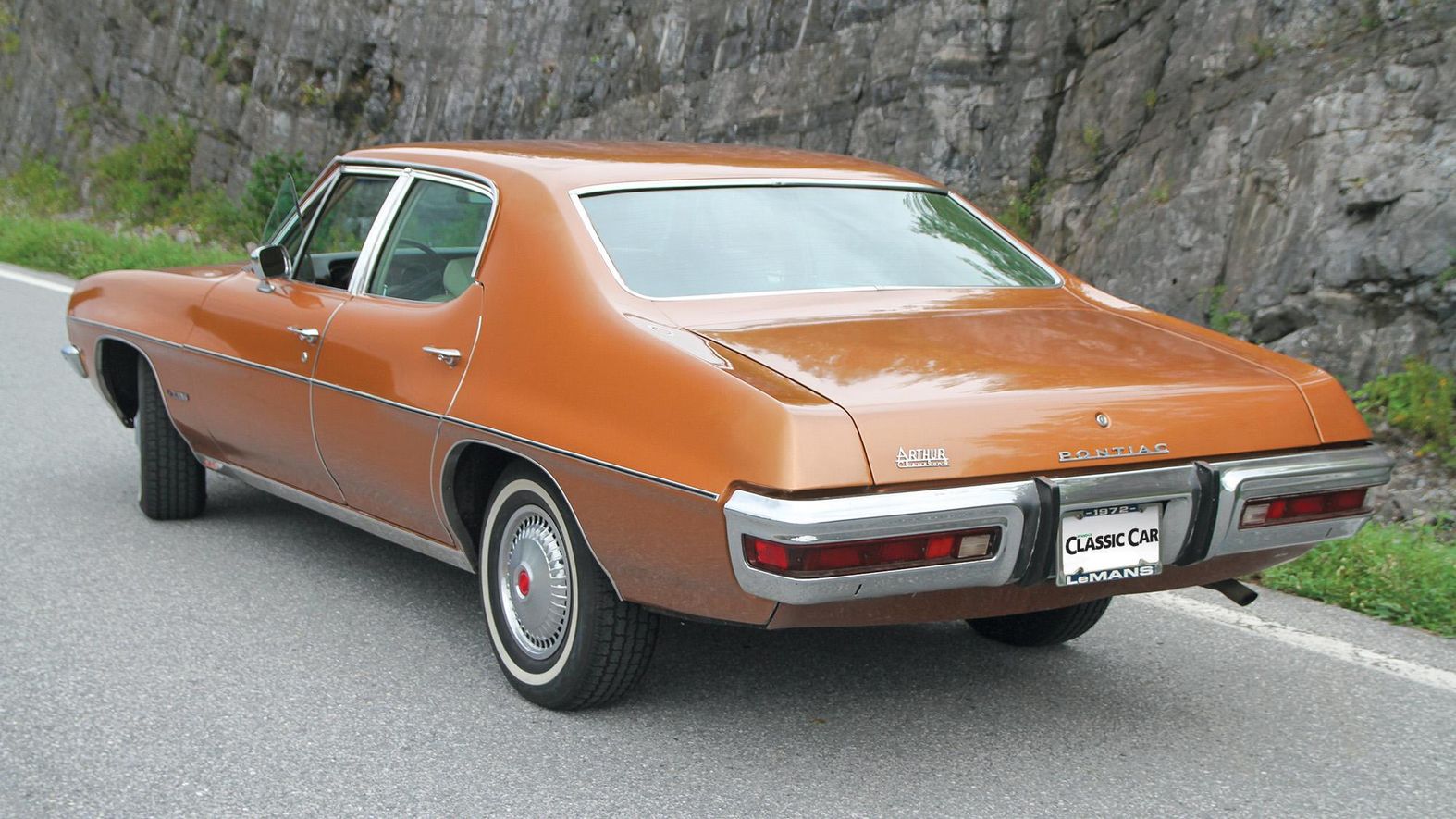 Photo by Matthew Litwin
"I did make one change to it: I put dual exhaust on it. The reason was that it had an exhaust leak in the Y-pipe where it was rusting out, and I couldn't find a replacement right away, so I decided to get dual exhaust. I went to a car show and someone bristled, claiming you couldn't get dual exhaust on a Le Mans…yeah, you could. I keep a copy of the dealer order on display because a lot of people forget that Detroit did whatever it took to build cars, especially during new model roll-out months. For instance, on my car, the rear valance under the bumper should be metal. Mine is plastic, which is what they had in '71, but my parents' '72 had a metal one. The same thing with the hazard knob. Mine has a '71 knob, and my parents' was built later in the model year, so they had the correct '72 knob."
George and Amy have been true to their intentions after purchasing the Pontiac. On average, the couple has added roughly 2,000 miles to the odometer annually, which included a trip to our Bennington, Vermont, office to help us obtain the images you see here. The afternoon was just another memory added to a long and proud list.
"When people ask me what's the most enjoyable thing I've done with the car, I tell them I'm still doing it all the time: driving it. I truly enjoy it. There are neat moments, like the time I chauffeured my oldest daughter to her school dance in this car when she was eight. We go to the cruise nearby just to drive up and down the road. Sometimes I'll be sitting at home, and I'll say to Amy, 'Let's go to Lansdale,' which is 20 miles away. We'll jump on the PA Turnpike, stop at the Wawa up there, get a beverage, turn around and go home. Just a no-reason ride. Vroom, we're off.
"She's just been a super car to own and drive. I do have to get the front seat reupholstered and new padding put in; it's $1,000. As with any old car, it's always just $1,000 away from being done. The seats will only be $1,000, and then it will be complete until something else comes up for $1,000, and once that's done, it'll be good. Whether it is or not, I'm not going to sell her. Not this one. I'm a four-door car guy—I can't help it. I'll drive it until death, then the kids can worry about what to do with it."
See Your Local Chapter Events
Our chapters often sponsor car shows and other events.